3Com Ethernet 3C595 PCI Card (Rev 1.9.1)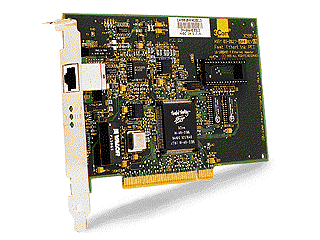 Specification
EtherDisk Software

Fast EtherLink adapters ship with a 3Com EtherDisk™ (3.5") that contains the drivers that support the leading network operating systems;


Other Software Drivers for other third party software are available from 3Com's BBS system or the third party.

Hardware

PCI bus computers.

RJ-45 Connector

Each Fast EtherLink adapter contains a single shielded RJ-45 connector (female), for use with the on-board transceivers. The connector reports the following speeds, cables, and operating distances:

Network Interface
Ethernet IEEE 802.3 industry-standard 10 Mbps baseband CSMA/CD (10BASE-T) and 100Mbps baseband CSMA/CD (100BASE-T) draft standard.
LEDs Each Fast EtherLink adapter has three LEDs to indicate link operating speed, integrity, and activity. The LED marked 10 LNK glows green continuously to indicate operation in 10 Mbps mode and that there is link integrity with a 10BASE-T hub; the LED flashes if the polarity of the wires is reversed. The LED marked 100 LNK glows green continuously to indicate operation in 100 Mbps mode and that there is link integrity with a 100BASE-T hub.
The LED marked ACT flashes yellow when there is network activity on the link in either 10BASE-T or 100BASE-T mode.
Interrupt Levels
PCI: Interrupt line INTA, which conforms with the PCI specification.
I/O Base Address The adapter address can be selected via diagnostic software provided on the EtherDisk.
PCI: Any 32-bit I/O Base Address; adapter occupies 32 bytes of I/O space.
ROM Socket Memory Address
PCI: Supports PCI 32-bit Boot ROM address. Occupies 64-KB of memory space.
Transmit/Receive Buffer Memory 64 KB. Receive and Transmit Buffer Memory may be partitioned as 32 KB/32 KB or 48KB/16 KB.
Physical Dimension
PCI:

Power Requirements: Operating Voltage PCI:

Environmental Operating Ranges
Temperature: 32 to 158 °F (0 to 70 °C).
Humidity: 10% to 90% non-condensing.
Altitude: to 9800ft / 3000m.
Safety and Electromagnetic Compatibility FCC Part 15, Class B; VDE 087 1, Class B; UL1950, 1st edition.
---