Archive 4324RP DDS-DC 2-8Gb (Rev 1.1.19)
---
Specification
Data Transfer
Sustained
366 Kbytes/s (1:1 base)
732 Kbytes/s (2:1 typical)
1464 Kbytes/s (4:1 max)
Nominal Capacity
60-metre cartridge
1.3 Gbyte (1:1 base)
2.6 Gbyte (2:1 typical)
5.2 Gbyte (4:1 max)
90-metre cartridge
2.0 Gbyte (1:1 base)
4.0 Gbyte (2:1 typical)
8.0 Gbyte (4:1 max)
Unrecoverable Errors
Less than 1 in 1015 data bits
Recording Format
ANSI/ECMA Digital Storage with Data Compression (DDS-DC)

Media (five)

2GB DDS tape
GH51987
---
Using the Drive
Interpreting the LED indicators
| | | |
| --- | --- | --- |
| Green | Amber | Drive status |
| ON | OFF | Cassette inserted |
| ON | ON | Cassette inserted: tape being read or written |
| Flashing Slowly | ON/OFF | Media warning |
| Flashing rapidly | ON | Drive could not write to tape correctly |
| ON/OFF | Flashing rapidly | Hardware error or high humidity |
Write-protecting a cartridge
A cartridge can be write-protected by sliding the white tab on the cartridge so that the recess is revealed. In this position, data can be read from the tape but not written to it.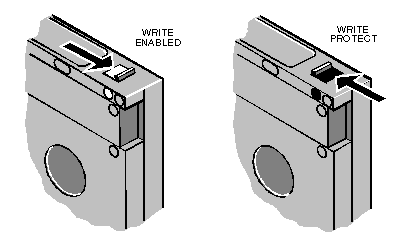 Automatic drive operation
To prolong the life of the tape and the drive mechanism, the drive "relaxes" during periods of inactivity (no read or write operations):
After 30 seconds, the capstan and pinch roller are releasedand tape tension is removed.
After 90 seconds, the tape is pulled away from the head cylinder, and the cylinder stops rotating.
Inserting a cassette
Insert the cassette into the slot with the triangular arrowhead on the cassette pointing towards the drive. As the tape is inserted, the drive takes it and automatically loads it into the drive mechanism. A load sequence checks ambient humidity, the tape format and data integrity. Unless the tape is blank the tape log, which contains a history of usage of the tape, is read into the drive's memory.
The drive will automatically format a blank tape when data is first written to it. Remember to allow time for the formatting process when you use a new tape.
Removing a cassette
Before attempting to remove a cassette, ensure that the drive is not currently in use (the amber Drive Busy indicator must be unlit).
Press the EJECT button on the front of the drive (depending on your operating environment, the EJECT button may be disabled while the drive is in use). If the tape is write-enabled, a copy of the tape log, held in the drives memory, is written back to tape. The drive rewinds to between the beginning of the tape, unthreads it, and ejects the cassette. Several seconds may pass the button being pressed and the cassette being ejected, so be careful not to turn off the computer before the operation is completed.
---
Environment
| | | |
| --- | --- | --- |
| | Operational | Non-operational |
| Temperature | +5º to +45º C | -40º to +65º C |
| Humidity | 20% to 80% | 0% to 90% |
| Shock | 8G's peak | 50G's peak |
Power

Voltage

+12Vdc ± 10%
+5Vdc ± 7%

Ripple

+12V: 100mV pk-pk
+5V : 100mV pk-pk

Current (max)

1.40A @ + 12V
1.30A @ + 5V

Acoustic Level

Idle

Operational

45dBA max

50 dBA @ 3ft
---
Jumper Settings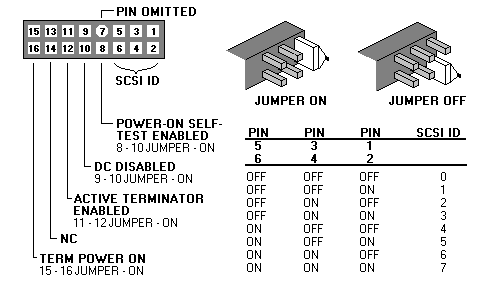 Default settings - SCSI ID 2, Power-on Self Test Enabled, rest are all OFF
NOTE: On the CTD8000R-S it has the above jumpers on the rear of the drive, also it has a switch block on the underneath of the drive. Both the switches and jumpers can be used.
---