FT3000 - Side & Front Covers
Side Cover
Removing the Side Cover
You need to remove the system side cover and in some cases the front cover to gain access to components inside the system.
First follow the steps given above in 'Before you remove any cover'.
If there is a padlock installed on the back of the system, unlock and remove it.
Remove and save the three screws from the side cover; you will need them later to reattach the cover.
Place the fingertips of your left hand under the built-in handle on the back of the cover.
Using an even pull, slide the cover backward, about an inch, until it stops.
Using your left hand, pull the back end of the cover toward you to disengage its bottom row of tabs from the notches in the chassis.
Using both hands, lift the cover upward to disengage the top row of tabs from the notches in the top edge of the chassis. Set the cover aside.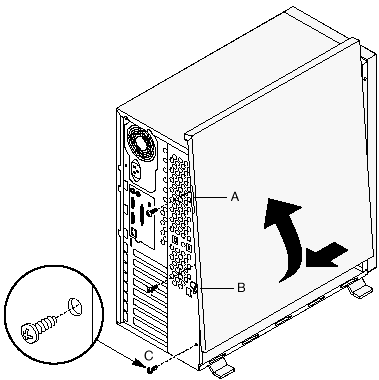 Installing the Side Cover
CAUTION
When you install the side cover, do not damage the EMI gaskets mounted on the cover. Replace any damaged strips, or your system may not meet EMI requirements.
Before replacing a side cover, check that you have not left loose tools or parts inside the system.
Check that cables, add-in boards, and other components are properly installed.
Position the cover over the chassis so that the top row of tabs aligns with slots in the top of the chassis. Slide the cover toward the front of the system until the cover tabs firmly engage in the chassis.
Attach the cover to the chassis with the three screws you removed earlier, and tighten them firmly.
To prevent unauthorized access inside the system, insert and lock a padlock through the metal loop protruding through the slot in the back of the side cover.
Connect all external cables and the power cord to the system.
Front Cover
Removing the Front Cover
First follow the steps given above in 'Before you remove any cover'.
Remove side cover.
Squeeze the two plastic tabs inside the front cover, and push them through the chassis slots.
Pull the left side of the cover out slightly, about 15° , until the cover clears the power and reset buttons. Slide the cover to the right until the tabs disengage from the chassis slots. Set the cover aside.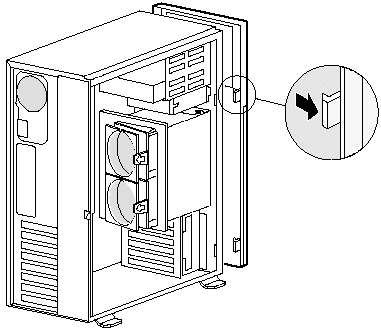 Installing the Front Cover
Before replacing the front cover, make sure you did not leave any tools or loose parts inside the chassis.
Insert the plastic tabs on the front cover into the slots on the right of the chassis. Squeeze the front panel and chassis together along the left side until the plastic tabs snap into their slots.
---