FT3000 - Expansion Slots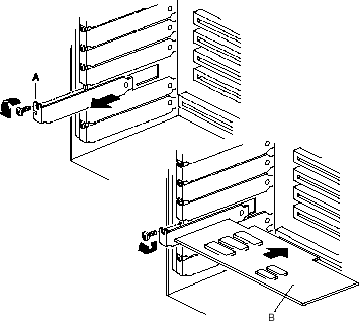 | | |
| --- | --- |
| A | Expansion slot cover and screw |
| B | Add-in board, use same screw |
Installing an Add-in Board
First follow the steps given above in 'Before you remove any cover' in the Owner's Handbook.
Remove side cover.
Remove and save the expansion slot screw and cover.
Remove add-in board from its protective wrapper. Be careful not to touch the components or gold edge connectors. Place board component-side up on an antistatic surface.
Record the serial number of the add-in board in your equipment log.
Set jumpers or switches according to the manufacturer's instructions.
Hold board by its top edge or upper corners. Firmly press it into an expansion slot on the server board. The tapered foot of the board retaining bracket must fit into the mating slot in the expansion slot frame.

Install an ISA board component-side UP.
Install a PCI board component-side DOWN.

Align the rounded notch in the retaining bracket with the threaded hole in the frame. The bracket fits the space that was occupied by the slot cover.
Use the screw removed earlier. Insert it into the threaded hole, and push the rounded notch against the screw. Tighten it firmly to prevent the bracket from interfering with adjacent brackets. Attach cables if necessary.
Reinstall the side cover.
---