FT5000 - Expansion Slots
The baseboard has one ISA slot that is full-length if the wide SCSI-B slot is not used (and half-length if the wide SCSI-B slot is used); the ISA slot supports slave-only boards and is shared with PCI-B slot 4. The ISA has three embedded devices: the Super I/O chip, Baseboard Management Controller (BMC), and flash memory for system BIOS.
ISA features:
Bus speed up to 8.33 MHz
16-bit memory addressing
Type A transfers at 5.33 MB/sec
Type B transfers at 8 MB/sec
8- or 16-bit data transfers
Plug and Play ready
The baseboard has two 32-bit PCI bus segments: PCI-A and PCI-B. These provide seven slots for PCI add-in boards: three on PCI-A and four on PCI-B. PCI-B4 is shared with the ISA slot. PCI-A1 supports half-length boards only. The other slots support full-length boards.
PCI features:
33 MHz bus speed
32-bit memory addressing
5 V signaling environment
Burst transfers of up to 133 MB/sec
8-, 16-, or 32-bit data transfers
Plug and Play ready
Parity enabled
Installing an add-in board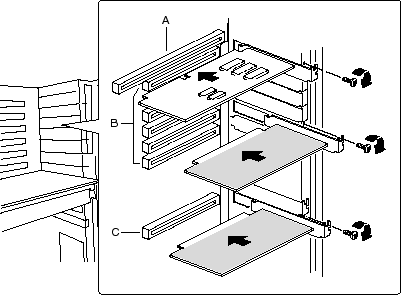 | | |
| --- | --- |
| Key | Description |
| A | ISA slot (USE HALF-LENGTH BOARD ONLY) |
| B | Six PCI slots (top to bottom in figure = PCI B3, B2, B1, B0, A3, and A2) |
| C | PCI slot A1 |
---