FT5000 (Sitka motherboard) - Jumpers

One 11-pin single inline header provides three 3-pin jumper blocks that control various configuration options. Items in bold in show default placement for each configurable option.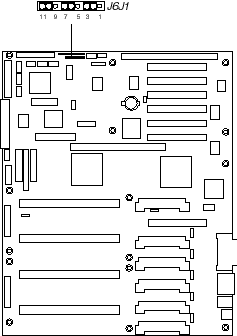 Function
Pins (default in bold)
What it does at system reset
CMOS clear
1-2, BMC Control
Preserves the contents of NVRAM.
2-3, Force Erase
Replaces the contents of NVRAM with the manufacturing default settings.
Password clear
5-6, Protect
Maintains the current system password.
6-7, Erase
Clears the password.
Recovery Boot
9-10, Normal
System attempts to boot using the BIOS stored in flash memory.
10-11, Recovery
BIOS attempts a recovery boot, loading BIOS code from a diskette into the flash device. This is typically used when the BIOS code has been corrupted.
---