Apricot XEN-LS II
System Specifications
System Overview
Technical Highlights
Technical Specifications
Model Summary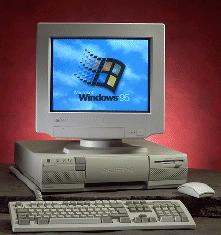 Apricot reserves the right to alter specifications without prior notice.
The information contained in these specifications was correct at the time of compilation.
---
Its highly integrated design is ready now for the next generation of desktop applications and network environments, with Integrated Network Architecture (INA), security, high-resolution video and Professional Audio including a CD-ROM interface mounted on the motherboard as standard.
Power
XEN-LS II is based on 486 processing across the whole range, with an upgradable processor socket that provides an assured, low-cost route forward to increased power at any time.
Options range from a 25MHz 486SX entry point to the highest desktop performance currently available - 66MHz 486DX2. And it is purpose designed for upgrade to any member of the P5 family - the first of the new generation of Intel processors.
Integration
The local processor bus can access up to 64MB of onboard memory and Apricot's unique INA network co-processor technology. The main board also includes high resolution graphics - using Apricot's Advanced Graphics system - and exceptionally high security, with the unique Apricot LOC Technology subsystem.
Three full-length, full height ISA expansion slots provide plenty of scope for highly specialised system building.
Drive Performance
Disk options are fast and flexible. A full height 3.5" drive bay can be configured with twin one inch high hard disk drives - giving a maximum internal storage capacity of over 1GB.
An internal 5.25" bay adds an extra range of versatile options - from another hard disk or a tape backup system or optical or CD-ROM drives.
Multimedia
As standard, the XEN-LS II includes a complete professional audio system - including high quality stereo speakers, an FM synthesiser and a digital mixing desk. An internal CD-ROM drive can be added without using an expansion slot, with a Sony CD-ROM interface integrated onto the main board.
These multimedia features exceed Microsoft's MPC specification, which ensures full compatibility with the audio extensions built into the latest software packages such as Windows 3.1.
---
Processing & Memory
Upgradable processor modules

A clear route forward to more processing power in the future, at minimum cost - only the processor chip needs to be changed. Purpose designed for Intel's next generation of high performance desktop processors.

Switchable CPU speeds

Unlike conventional CPU upgrades - which only allow the processor type to be upgraded - the Apricot route also allows the system to be upgrades to faster processor speeds

486SX-25 minimum specification

Low cost entry point to the power of 486 computing - with the ability to upgrade at any time.

Up to 486DX2 66MHz processing

Uses some of the highest levels of processor performance currently available.

Second level cache

256KB of ultra-high speed cache memory handles most frequently accessed RAM and ROM data - drives processor at maximum speed for extended periods.

ROM shadowing

ROM BIOS copied into high-speed RAM, to enhance speed of core system functions.

4MB RAM, expandable to 64MB on the main board via standard SIMM sockets

Exceptionally high specification provides plenty of scope for memory hungry modern applications. Onboard expansion is much faster than add-in cards - and the XEN-LS II accepts industry-standard SIMMs.
Apricot Integrated Network Architecture (INA)
Intel 596 Ethernet co-processor

Intelligent Ethernet interface off-loads network I/O tasks from the main processor - results in faster network response and better overall system performance.

Local bus integration

Ethernet interface has direct access to main processor and system memory (like a maths co-processor). Enormous bandwidth of the local bus allows the system to handle a high volume of transactions very quickly.

Thick wire, thin wire and UTP Ethernet

Connects to any standard Ethernet cabling system. Token Ring card also available.

Industry standard drivers

Operates with every major network operating system. Certified by Novell.

Ethernet RPL boot ROM standard

RPL allows connection to most major networks.
Apricot LOC Technology
Infra red access control

Overcomes inherent limitations of password-only security, by using a physical token (infra red card) in conjunction with password and user ID.

Independent security subsystem

Security has its own processor, memory and real-time clock - so it can't be circumvented or tampered with via the main operating system.

Security management

Security can be individually configured for different users, with the ability to disable disk drives, network, expansion slots, audio or I/O ports selectively.

Encryption

Stores all data in a unique, encoded form - prevents unauthorised users from loading programs or removing data.

UKL1 approval

Functionality of Apricot LOC Technology has been officially confirmed by UK Government's Computing and Security Group.
Apricot Advanced Graphics
Highly integrated video logic - sub-micron design

Display functions integrated onto a single chipset, for fast graphics performance.

1MB video RAM as standard

Opens up a wide range of high resolution standards, including 1024 x 768 with 256 colours.

High resolution 14" and 17" monitors

Monitor options provide the quality and resolution to exploit full potential of Apricot Advanced Graphics up to 1024 x 768 display, 256 colours. VESA, MPRII Low emission compliant.

Non-interlaced

Provides flicker-free display

Trinitron tubes

Trinitron tube technology provides flicker free and glare free flat screen imaging. Uses black screen for increased contrast, giving crisper, brighter colours.
Professional Audio and CD-ROM
Digital stereo sound

Accepts and replays stereo sound Input from virtually any source - including external microphone, CD player or even personal stereo.

Microphone supplied as standard

For integrating voice messages into desktop applications.

FM synthesiser

Fully equipped for sophisticated audio effects - ideal for specialised multimedia applications in training, presentation and information access.

Stereo digital mixing desk

Easily controlled utility for balancing levels of synthesiser, 12 bit DAC, 12 bit ADC, AT audio, CD-ROM and input jack.

Microphone / line input. Output via internal stereo speakers or external stereo devices.

Internal, high-fidelity sound on the desktop - with headphone option for privacy - front panel volume control for easy adjustment.

Compatible with Windows 3.1 audio extensions and MPC specifications

Takes full advantage of sound functions built into a growing range of Windows 3.1 applications.

CD-ROM slot and onboard interface

Ready for low-cost CD-ROM drive installation. CD-ROM is important not only for multimedia, but as a standard distribution medium for high volumes of data - including major software products such as Microsoft Word.
Disk Drive Systems
Onboard IDE interface

IDE is proven as the fastest controller standard for single drive computers. The controller is mounted onto the drive itself, for enhanced reliability and performance.

Full height 3.5" drive bay

Support for one full-height or two one inch high hard disk drives.

Internal 5.25" drive bay

Provides maximum flexibility in system building - can be used for streaming tape, internal CD-ROM, 5.25" floppy or optical drive. Interfaces included as standard for CD-ROM, 5.25" floppy and Irwin tape drive.

Range of hard disks up to 525MB

Very highly specified hard disk options include one of the fastest 525MB drives currently available - exceeds the performance of most file server drives.

Up to 300,000 hours MTBF

Drives specified to run for longer than your own working life without failure.
Expansion
Three full length, full height ISA slots

Highly expandable specification - accepts any standard AT-compatible devices. With networking, memory up to 64MB, high-res graphics, audio, security and CD-ROM on the main board, all three slots are free for specialised system building.
RFI Approval
Conforms to international RFI standards

Conforms to all international standards for radio frequency emissions - including FCC Class B and VCCI class 2.

14" and 17" EVGA Monitors conform to VESA MPRII standards for radiated field emissions

Meets demanding EC and International Health and Safety regulations for screen emissions.
Software and ROM
MS-DOS 6, Windows 3.1 plus mouse

The world's most important desktop computing environment - pre-installed for ease of setup and configuration.

Apricot LOC Technology software, plus infra-red card

All the software needed to enable and configure the onboard LOC Technology security system available as an option.

Graphical boot

System boot and Setup presented in a mouse-driven, Windows-style graphical interface.
Apricot Technology
Apricot INA Networking

For most users, network response is a critical factor in overall system performance. In conventional PCs, however, networking connection is via an add-in AT card. With all network data transferred across the AT bus, this approach leads to a very slow network response.

Apricot regards networking as an essential feature of modern desktop computing. All Apricot network ready PCs have the Ethernet interface integrated on to the main board, allowing the user to plug straight into most industry standard networks without any extra costs.

Apricot's Integrated Network Architecture (INA) also provides a dramatic 66% improvement in system performance for network users. It's based on the Intel 596 - a high performance Ethernet co-processor designed originally for file server applications. Apricot is the first major PC manufacturing company to mount this intelligent network interface onto the main board.

The Intel 596 is connected to the local processor bus in the same way as a maths co-processor. It has direct access to the system memory and processor, using the enormous bandwidth of the local bus. The 596 takes over network I/O tasks from the main processor, storing and retrieving data directly from memory without any intervention from the CPU.

Since is doesn't have to wait for main processor resources to become available, the system can respond much faster to network I/O requests. And because it frees up more processor time for non-network tasks, it leads to better performance across the system as a whole. In a network-intensive situation - such as a diskless workstation, or shared database access - network tasks can take up as much as 50 - 60% of main processor time. Using Apricot INA, this figure is reduced to 5 - 10%.

Apricot LOC Technology

LOC Technology is the first PC security system to provide effective protection against data theft, fraud, illegal software copying and viruses. On its own, a password is inherently insecure: it leaves the system at the mercy of careless users and skilled hackers.

With the Apricot approach, access is controlled by special hardware integrated on the motherboard and requires both a password and a unique, infra-red signal - in the same way as a cash card machine uses a card and a unique PIN. This dual security control is supported by a sophisticated range of password and security management features. Individual devices can be selectively disabled for different users, and access can be restricted to pre-set log-on times.

LOC Technology is based on its own independent security system, with its own processor, battery power and memory. This means that intruders can't hack into password data from the main operating system - and unlike an add-in security card, it's proof against any attempts to break into the system unit and disconnect the security. LOC Technology, tested on Apricot Qi, has been certified to UKL1 by the UK Government's IT security and evaluation scheme.

Professional Audio

Over the next few years, multimedia technology will have a major impact on business applications. It will make systems easier and faster to work with, delivering the power to add voice annotations to documents, for example. It was also open up a range of new applications in areas such as voice mail. Increasingly, applications will build on the potential of sound to add greater impact.

With Windows 3.1 established as a practical, working standard for audio, the first applications using sound have already begun to appear.

The Apricot XEN-LS II is ready now for this new generation of audio-enhanced applications, with complete support for the full Microsoft MPC specification - the industry's most important standard for multimedia.

Its digital/analogue converters will accept, store and play back signals from a wide range of sources - including an external microphone (supplied with the system). The XEN-LS II incorporates its own high-fidelity, stereo sound system, and there's a socket for external headphones.

With an FM synthesiser and digital mixing desk, the XEN-LS II opens up the full potential of desktop sound - not only for voice annotations, but in mainstream business applications such as computer based training and business presentations.
---
| | | | | | |
| --- | --- | --- | --- | --- | --- |
| Processing | | | | | |
| Type | Clock speed | Cache | Numeric coprocessor | Address / data bus | Packaging |
| Intel 486SX | 25MHz | - | Optional Intel 487SX | 32 bit | QFP/PGA |
| Intel 486SX | 33MHz | - | Optional Intel 487SX | 32 bit | QFP/PGA |
| Intel 486DX2 | 50MHz | 256KB | Integral | 32 bit | 168 PGA |
| Intel 486DX2 | 66MHz | 256KB | Integral | 32 bit | 168 PGA |
| | |
| --- | --- |
| CPU | |
| CPU Socket | 238 PGA (Pin grid array) - and QFP |
| Cache controller | VLSI 82C425 IC (33MHz) |
| Core Logic | VLSI 82C486 single-chip AT controller |
| ROM | 128K x 8-bit: can be mapped into main RAM |
| | |
| --- | --- |
| Memory | |
| Standard Configuration | 4MB x 32-bit motherboard RAM |
| Speed | 70ns |
| Memory expansion | Up to 64MB via SIMMs |
| SIMM sockets | 2 x 36-bit: supports single or double sided modules |
| SIMMs | 2MB, 4MB, 8MB, 16MB or 32MB |
Network Interface
Ethernet controller
Intel 82596
Memory access
Via local bus
Remote boot
RPL (supports DOS remote boot from LAN Manager 2.1,
IBM LAN Server, NetWare 3.11 and NetWare 2.2)
Connectors
Thin wire Ethernet (BNC connector)
Unshielded Twisted Pair Ethernet (RJ45 connector)
Thick wire Ethernet (via 15-way D-type connector)
Inclusive Ethernet drivers
Microsoft DOS and OS/2 NDIS, NetWare DOS, ODI,
NetWare 3.11 Server, SCO UNIX LLI, FTP Packet Interface
Token Ring
Optional IBM 4/16Mbit/second Token Ring adapter
Display
Architecture
VGA / SVGA / EVGA
Controller
Cirrus Logic GD542x, including 65MHz RAMDAC and frequency synthesiser
Video RAM
1MB
Display Resolutions supported with 1MB
1024 x 768 (72Hz), 256 colours
800 x 600 (72Hz), 256 colours
640 x 480 (72Hz), 16.8 million (true colour)
| | |
| --- | --- |
| Expansion | |
| Slots | 3 x full length, full height AT-compatible |
| | |
| --- | --- |
| Power | |
| Power Supply | 145 watts |
I / O Ports
Serial
1 x 25-pin D-type RS232 ports (male)
Incorporates second serial channel
Parallel
25-way D-type (female)
User Input Devices
Keyboard
102 key PS/2 keyboard with 12 function keys, programmable repeat (2-30 characters / sec), 16 character type-ahead buffer, 6ft coiled cable.
Mouse
PS/2 compatible two button mouse
Microphone
High sensitivity electret
Mass Storage
Floppy disk storage
Drive
3.5" 1.44MB (94ms average access)
Also supports 2.88MB devices
Controller
Intel 82077SL
Hard disk storage
Controller
IDE interface, complies with CAM ATA standard
Form factor
Full height 3.5": supports 1 x 1.16" device or 2 x 1" devices
Configurations
Floppy only, 170MB, 240MB, 525MB
5.25" bay
Form factor
Half height 5.25"
Standard interfaces
Sony SLCD CD-ROM interface
Irwin tape drive
5.25" floppy drive
Hard Disk Drives
Type

Formatted capacity* (Bytes)

Average access
(ms)

Single track seek
(ms)

Burst media data rate (MB/sec)

Cache
(KB)

MTBF
(000 power-on hours)

Quantum ProDrive ELS170AT

170,000,000

17

5.5

2.5

32

250

Quantum ProDrive LPS240A

245,000,000

16

<4

3.75

256

250

Quantum ProDrive LPS525A

525,000,000

10

<3

4.66

512

250
LOC Technology
LOC Technology subsystem
Single chip custom microprocessor with ROM, RAM, real time clock and NiCd battery backup
Access control
Password, user ID and infra-red security card
Physical protection
Case lock, chain lock hasp, unique systems identification number
(required to reboot system if security is damaged or disconnected)
Max. number of users
25
Security configuration
Timed access control
Enable or disable selected devices - hard disk, floppy drive, serial port, parallel port, audio, network interface, ISA slots, CD-ROM interface.
Password control
6 level history, minimum password length, forced password changes
Encryption
Floppy drive and/or hard disk partition
Temporary security
Screen blanking and keyboard/mouse/audio disable, using infra-red card
Approval
UK Level 1 (UK Government IT security evaluation and certification scheme as tested on an Apricot Qi)
Professional Audio
Type
Digital stereo wave form audio
Controller
Yamaha Magic chip
11.025KHz 12-bit ADC (analogue-digital converter)
11.025/22.05KHz 12-bit DAC (digital-analogue-converter)
12-bit, 44.1KHz CD ROM quality
Sound synthesiser
Yamaha YMF262 FM synthesiser. Yamaha YMZ263 multimedia controller
Five channel mixer
Digitally Controlled. Inputs from DAC, synthesiser, AT-compatible audio, CD-ROM analogue audio and input jack
Input / output control
Four user-controllable input gain settings (insensitive microphone: sensitive microphone: consumer audio: personal stereo headphone output)
Front-panel volume control
Input / output sockets
Stereo 3.5mm output jack for speakers or headphones (disables internal speakers)
Joystick / MIDI port, using 15-pin D-type connector
Stereo 3.5mm input jack with pre-amplifiers
Microphone
Supplied as standard. Independently switched
Internal sound system
Internal stereo speakers and power amplifier (1.0W per channel, into 8W)
Standards
Conforms fully to Microsoft MPC audio specification
Video Drivers
640 x 480, 256 colours
Windows 3.1, AutoCAD, AutoSHADE
800 x 600, 16 colours
Windows 3.1, AutoCAD, AutoSHADE, OS/2 2
800 x 600, 256 colours
Windows 3.1, AutoCAD, AutoSHADE, OS/2 2,
Word 5.x, WordPerfect 5.1
1024 x 768, 16 colours
Windows 3.1, AutoCAD, OS/2 2, WordPerfect 5.1
1024 x 768, 256 colours
Windows 3.1, AutoCAD, AutoSHADE
14" SVGA Colour Monitor
Standard
SVGA
CRT size (diagonal)
14"
CRT type
Medium-short persistence phosphor: P22 or equivalent
Anti-glare screen finish
Modes
VGA, SVGA non-interlaced
Display area
245 x 183mm (±3mm) Width is user-adjustable
Dot pitch
0.28mm
Phosphor
P22
Safety
EN 60950, VDE 0871 / 0875 Class B, EN55022 Class B
CRT conforms to Anlage III RoV requirements
EMI / RFI approvals
MPRII 1990:8
14" and 17" EVGA Trinitron Monitor
Standard
EVGA
CRT size (diagonal)
14" or 17"
CRT type
Trinitron colour
Modes
VGA, SVGA, XGA, non-interlaced 1024 x 768 resolution
Display area
14": 253 x 190mm (±6mm)
17": 300 x 225mm (±6mm)
Dot pitch
Effective 0.26mm
Phosphor
P22
Safety
EN 60950, UL1950, CSA 22.2-950
EMI / RFI approvals
FCC part 15 class B, VDE 0871, 10.6 Class B, EC/EN 55022 (CISPR 22), SWEDAC MPRII 1990:8
| | | | | |
| --- | --- | --- | --- | --- |
| Physical Dimensions | | | | |
| | Height (mm) | Depth (mm) | Width (mm) | Weight (kg) |
| System unit | 94 | 430 | 428 | 9.5 - 11 |
| Keyboard | 40 | 205 | 488 | 1.4 |
| 14" SVGA Monitor | 360 | 384 | 351 | 11.5 |
| 14" EVGA Monitor | 354 | 400 | 351 | 14.5 |
| 17" EVGA Monitor | 365 | 485 | 401 | 25.9 |
Warranty*
Standard Cover
12 month onsite (£50 registration fee)

* UK mainland only
Approvals
EMI / RFI
FCC part 15 limit B, VDE 0871 limit B, EN 55022 limit B,
DOC 108 limit B, VCCI level 1
Safety
EN 60950, UL 1950, CSA 22.2-950
---
Apricot XEN-LS II 486SX-25
Intel 486SX (25MHz), 4MB RAM (max. 64MB)
---
Apricot XEN-LS II 486SX-33
Intel 486SX (33MHz), 4MB RAM (max. 64MB)
---
Apricot XEN-LS II 486DX2-50
Intel 486DX2 (50MHz), 4MB RAM (max. 64MB)
256KB secondary cache
---
Apricot XEN-LS II 486DX2-66
Intel 486DX2 (66MHz), 4MB RAM (max. 64MB)
256KB secondary cache
---
Apricot INA onboard Ethernet interface
Thin wire, thick wire and UTP Ethernet
Optional IBM Token Ring card (4/16 Mbits/sec)
---
1.44MB floppy drive
One IDE hard disk drive (170, 240, 525MB)
---
Apricot Advanced Graphics
(max. resolution 1024 x 768 x 256 colours)
---
14" SVGA colour monitor
Maximum resolution 800 x 600 non-interlaced
1024 x 768 interlaced
14" or 17" EVGA Trinitron colour monitors
Maximum resolution 1024 x 768 non-interlaced
MPRII low-emission compliant
---
Apricot LOC Technology security system
---
Apricot Professional Audio (Windows 3.1 compatible)
waveform audio, stereo internal speakers,
FM synthesiser, digital mixing desk, MIDI interface
---
Microphone
---
Sony SLCD CD-ROM interface
---
Twin serial port, parallel port and PS/2 compatible
mouse port
---
PS/2 compatible Mouse and 102 key AT keyboard
---
*Inclusive software: Windows 3.1, MS DOS 6.0
---
Optional LOC Technology software pack with infra red card
---
* UK mainland only
---