Pentium II Power
The Apricot FT1400 is fitted with a 350MHz or 400MHz Pentium® II CPU, incorporating MMX™ technology, giving superb performance (almost 50% more than the Pentium Pro). The 512K level 2 cache ensures peak performance, and as the motherboard has a second free CPU slot, this allows you to keep your upgrade options open!

100MHz Bus Speed
Always a leader in technology, Mitsubishi Electric has taken advantage of the latest developments to not only boost the processor speed, but also increase the whole motherboard speed by 50%. This enhances network performance far more than ever before.

Ultra SCSI
A SCSI disk subsystem is essential for a true server, so the Apricot makes no compromises on its disk controller. Whilst lesser systems struggle with desktop technology, the FT1400 has dual Ultra SCSI controllers (one wide, one narrow) as standard: PCI based, of course. This gives a SCSI bus capacity of 40MB/s, ideal for fast file serving and demanding applications.

Multiple Drive bays
To cope with the inevitable rise in data volumes, the FT1400 has a class-leading four internal hard disk drive bays. Fit a 9GB in each and you have an impressive 36GB of high performance Ultra-Wide SCSI storage.

External Disk Unit
Supporting both Hot Swap drives and redundant power supplies, the external disk unit offers FT1400 up to 90GB of fault tolerant storage, with support for clustering, virtually eliminating server downtime.

Server Management
The FT1400 is supplied with dedicated server management as standard. This enables your server administrator to remotely monitor the condition of your servers' voltages and temperature, giving early indication of potential problems. The server management controller will also issue warnings in case of unauthorised intrusion and component failure. And, in the rare event of an operating system crash, your server can reboot automatically! All this functionality adds up to less server downtime and increased productivity.
High Capacity, High Speed Hard Drives
To complement the Ultra-Wide SCSI controller and RAID option, the Apricot FT1400 uses high-performance Ultra-Wide SCSI hard disk drives. These high-quality drives have a MTBF rating of 800,000 power on hours.

Smart-UPS Option
As an option, the APC Smart-UPS can be used to protect your Apricot FT1400 from the hazards of fluctuating mains supplies. The Smart-UPS unit protects against temporary brown-outs and keeps your data safe in the event of total power failure.

RAID Option
The PCI based RAID controller provides fault-tolerant operation by allowing data to be spread across a number of hard drives which appear as one logical disk. In the event of a single disk failure, the system continues to operate as data is still available. For the maximum peace of mind, the system can even be configured with a disk designated as a "hot spare" which will automatically take over from the failed disk.

And all this can be managed with an easy to use management utility, run either locally or remotely (exact configuration option depends on operating system).

Rack Mountable
The optional rack mount kit allows the FT1400 to be mounted into a Mitsubishi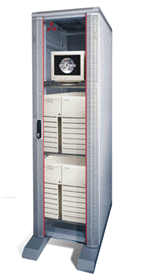 industry standard 19" Rack, making it suitable for any environment.
Security
Case locks prevent unauthorised access to the system. This protects the power on/off switch, exchangeable media, fixed disks and electronic components.
Mitsubishi 19" Rack